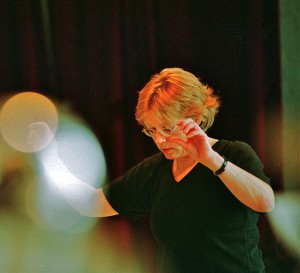 In 1983-84 I followed a set of courses in arranging, conducting & composing for young and/or amateur groups. This turned out to be a great foundation for conducting in general, and I discovered that leading the band is even more fun that playing in it…
Fronting the UWO for so many years was a great experience, leading on to other workshops & projects:
2002: musical leader and conductor of the "JazzArt Orchestra", performing prize-winning pieces composed for the prestigious  "JazzArt-Aktuelle Musik im 21.Jahrhundert" competition in NRW (Germany)
2005: guest workshop & performances with the Seattle Women's Jazz Orchestra (SWOJO) in Seattle.
2006: 'Artist-in-residence' at the Berklee College of Music in Boston, working with the Faculty Bigband.
2014: Orchestra-leader  during the "Jazz Conceptions" workshop in Darmstadt (D).
My latest venture is the Composers' Orchestra Berlin. I may be MD but I'm only one of the 25 composers in the pool. Read more….